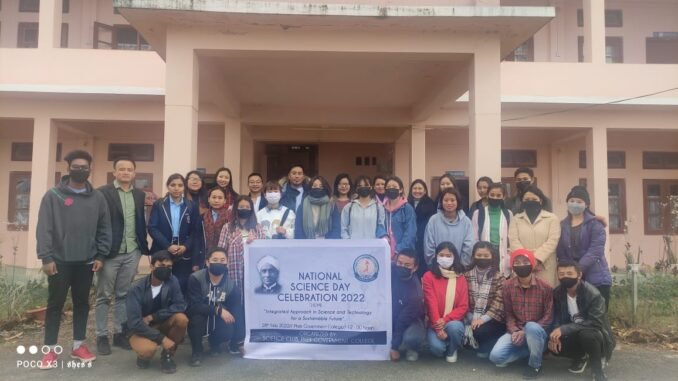 Phek Government College celebrated National Science Day on 28 February 2022 to commemorate the discovery of Raman Effect by Prof. C. V Raman. The program was organized by the Science Club, Phek Government College under the theme 'Integrated Approach in Science and Technology for a Sustainable Future'.
The program was chaired by Mrs. Luiluile Lungalang, Asst. Professor, Department of Zoology. Dr. H. Atoholi Sema, Asst. Professor, Department of Chemistry delivered a keynote address. In her speech, she highlighted a brief biography and discoveries of CV Raman and explained the main objectives of National Science Day celebration. She applauded the endeavors taken up by the science students of the college through various activities like organising field trips, awareness seminar program, practicing green campus, maintaining botanical gardens and many other projects in the college. She also emphasized that the role of a teacher is important to create awareness since it will inculcate scientific temperament and making the students well informed to become environmental conscious and friendly.
The program also organized a speech competition among the science students. A total of 13 students from B.Sc 2nd , 4th & 6th semesters participated in the speech competition that was conducted on the above theme. The winners of the speech competition are cited below:
B.Sc 2nd Semester
1st Position – VEKHRUTO NIENU
2nd Position – RULEVELU VENUH
3rd Position – SHESULU CHUZHO
B.Sc 4th Semester
1st Position – UZOLU HUIRE
2nd Position – NABIN KUMAR
3rd Position – VECHILI VERO
B.Sc 6th Semester
1st Position – VENEKHOLU CHIZO
2nd Position – REENA THAPA
3rd Position – MICHEHU RHAKHO
The judges for the speech competition are Ms. Vinituono Krose, Asst. Professor, Department of Physics, Mrs. Pfuchupeu Mero, Asst. Professor, Department of Botany and Ms. Vedulu Thingo, Asst. Professor, Department of Zoology. Dr. Levinu Sakhrie, Asst. Professor, Department of Political science distributed the certificates to the winners.
The programme was attended by the students of science stream and faculties of the college. The programme was concluded with a vote of thanks by Mr. Lidemo B. Kithan, Asst. Professor, Department of Physics.